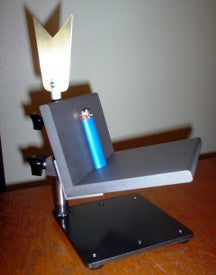 Upgraded Bench Marver w/Stainless Steel V-­Blade
Regular price $170.00 Sale
This bench marver is 6" x 6" x 4" standard (call for customization), and includes a Stainless Steel V-Blade.  Both the Marver and Stainless Steel Blade are Adjustable in Height.
The stand has a 6 x 6 Heavy Duty Plate , along with rubber feet and holes for bolting it to your bench.

The height of the Blade can be adjusted between 9.5" and 13".